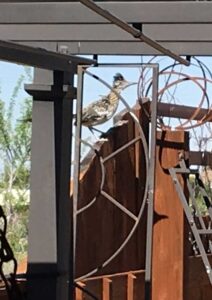 As Ray Kinsella said in Field of Dreams – " If you build it, they will come".  This is certainly true when you build a garden in the high desert.  Birds, bees, butterflies, lizards … all will come to enjoy the feast.  In my garden I have welcomed owls, quail and western tanagers. I have butterflies and hummingbirds as well as dragon flies. Wrens take a bath in my waterfall and doves nest in the crooks of my pergolas.  Roadrunners stop by for lunch.  And I talk to every one of them!
Not only will these wonders of nature come to visit, you will create an area of sanctuary and beauty.  Surround your self with winged friends, color and movement. You will also create a gathering spot for friends and family to enjoy with you.
Gardening for many of us is not just a chore that will add appeal to our homes, it is a joy, a passion – and yes, even an obsession. If you are like me the drive to create a beautiful and harmonious environment is one we cannot resist.  Creating your own oasis is challenging but ultimately incredibly fulfilling.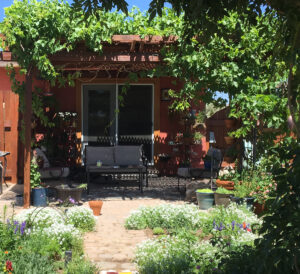 If you live in a high desert environment and have dreamed of such a spot this is the place for you.  Some will tell you that you are crazy – after all you do live in the desert! Others will tell you that your water bill will skyrocket and soon you will be digging it up to revert to desert. I say this in not so!
With planning and the right advice you too can create an oasis from the desert sun.
When I bought my house in 2009 I knew I had to have gardens. I had gardened in the Chicago area with it's short seasons and in Texas where any seed you drop will grow. Faced with desert "scrub" I had no idea where to start.
Internet research found that general gardening guides abound – well, actually overwhelm. And there is loads of information for xeriscaping. But details – for flower gardening in high desert areas were hard to find.
I have accomplished my dream but it was a rocky road. I have had successes and failures. I have ripped out and replanted huge sections of my garden. I have done major projects in the wrong order. But I have persevered. And I am hoping that my experiences will help you avoid these setbacks.
While my experience has been with gardening in the high desert much of the information here is relevant for other environments. From irrigation systems to specific plant attributes the details can be helpful no matter where your garden may be.
If you are starting with nothing but open desert land I will give you tips from planning and building your space to your first plant selections. Choose your topic from Build It
If you are lucky enough to have your space ready to plant I will give you tips on choice and care of plants, seasonal chores and my guide to winners and losers in the high desert garden in Grow It
What defines a high desert environment? Read about it here. What is it?
Practical advice from a home gardener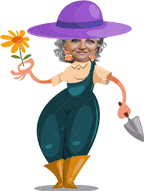 I am Deborah Valiquet – artist and obsessive gardener. Here you will find my advice for creating a garden oasis in the high desert. I'll share my experiences – successes and failures over the last 10+ years. 
Even if your garden isn't in the high desert you will find lots of valuable information here. Let's dig in!