The Winter Garden in the High Desert
Winter creeps in slowly in the high desert. It is not unusual to have gaillardia, gazania and asters blooming at Thanksgiving. This is long after the bee balm, echinacea and daisies have gone to sleep.
There are different ways to approach your winter garden and I have dealt with it in different ways over the years.
As our climate is relatively mild you could have color in your garden year round. This would entail cutting back dormant perennials and planting cool weather annuals. Snapdragons, pansies, stock, poppies, ornamental kale are among those that will survive the winter. I have done this and have stopped doing so for a couple of reasons.
The first reason is that I have a huge garden and it requires a lot of plants to really make it look nice in the winter. Unfortunately all of those annuals that survive the winter will not survive when the heat arrives. For me the most heartbreaking is trying to keep the poppies going with no luck at all.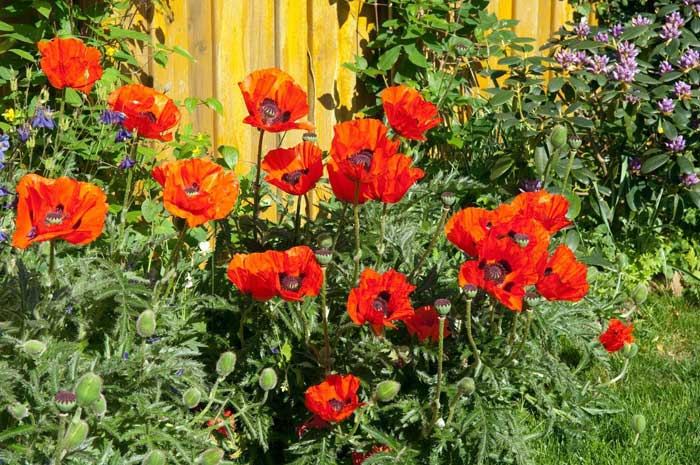 The second reason I have opted to not take this approach is that cutting back perennials in the fall removes their winter protection. Over the years I have learned the hard way that my desire for a tidy – or even colorful winter garden jeopardizes my spring and summer garden. While winters in the high desert are considered mild we do have nighttime temperatures below freezing. Wind is also a harsh element for your sleeping perennials. While you do not run the risk of plants heaving from frozen ground I like to take a more nurturing attitude to my precious plants.
Among my fall chores is to dig up and overwinter precious annuals and tender perennials that would not survive – Pentas, evolvulus and hibiscus. If needed I may add a bit more mulch around the base of some plants. But leave their dead blossoms and foliage in place. If the frost attacks those are the areas that will suffer while the crown will survive. Seed heads can self sow bringing you new finds in the spring and you leave some food for the birds.
My winter garden is a sad sight I will admit but I have found leaving the mess helps with success in the spring.  While I have learned to resist the lure of masses of those cool weather annuals I will succumb and put some snap dragons, alyssum and stock in pots on patio. Call it weakness if you will ….