This index is by no means inclusive. I have added trees, vines, shrubs, annuals and perennials that I have tested in my high desert garden. These are categorized as Five Star, Winners, Disappointments, Losers and the Jury Is Still Out. Again, I stress, these rankings are based on my own experience. If yours is different and you have tips to share please comment!
If you are curious about a specific plant please use the search bar and if it is included it will show you links to find information.
These are plants that due to their showiness and reliability form the backbone of my garden beds. I would encourage you to find a place in your design for these special plants.
Practical advice from a home gardener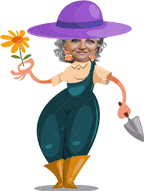 I am Deborah Valiquet – artist and obsessive gardener. Here you will find my advice for creating a garden oasis in the high desert. I'll share my experiences – successes and failures over the last 10+ years. 
Even if your garden isn't in the high desert you will find lots of valuable information here. Let's dig in!