Is it Spring in the High Desert?
We've all spent the last few months having a well deserved break from our garden chores. However, if you are like me, not long after the new year begins I am starting to get a little antsy to start implementing my winter garden dreams .
January is my month of assessing successes and failures of the previous gardening season. By taking photos of my garden throughout the year I can remind myself of plants that either did not live up to their potential or those that I may have put in the wrong place. Those that have taken up more than their share of space and need dividing and those that despite all of my care just did not thrive. Areas where I have too much orange or need a splash of white.
January is also the month of finding winter solace in your flower catalogues – making a list of way too many plants you want to add, paring that list and finally deciding on the few that you will actually try out in the coming season. And seed catalogues – oh my!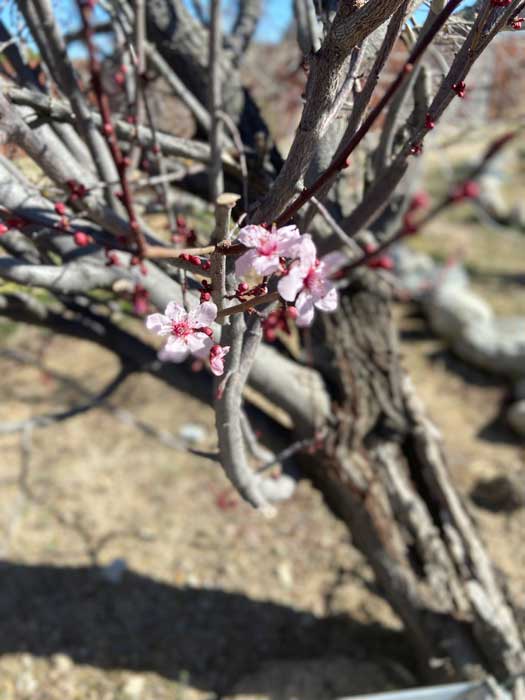 My point here is that for a lot of us gardening is a year round obsession. And we are anxious to get a head start on the growing season.
In addition, in the high desert when spring arrives it arrives with a vengeance. Temperatures seem to jump from the mid 60's to the mid 70's and beyond in a flash. Unlike the midwest where spring unfolds gradually with daffodils and tulips leading the way the high desert leaps toward summer.  And it is truly difficult to get all of those springtime chores completed before summer is here.
This year (2022) as is common the second week of February seemed to herald spring. Once again I would hear the birds in the morning and smile because I only then realized how much I had missed the sound of their twittering. And during the day you could actually feel the heat of the sun when you stood outside looking at your dormant garden – so much so that you almost felt like the roots of your flowers were waking up underneath the soil. I even spent a couple of days doing some clean up around the yard as a hummingbird following my every step reminding me that his feeder was empty and there were no flowers to feed him.
Unfortunately while all of this is true – do not be fooled! I was so fooled that in 2021 I planted several batches of new perennials in the second week of February. (And I knew better!) Imagine my horror when the next week the temperature plummeted, the winds howled and it snowed – yes, snowed. It is not uncommon for nighttime temperatures to drop below 30° in the last weeks for February.
Temperatures continue to zigzag often into March so you never know what to expect.  Usually by the third week of March daytime temps will rise from the mid 60's up to 80°.
One sign that it may not yet be time to start your spring chores is a visit to your local garden center. Of course I can't stop at Home Depot without checking out what is available in the garden section. A visit to my local Home Depot in mid February confirmed that it was not yet time. Rows of pansies, poppies, dianthus, snapdragons, stock and osteospermum were available – all cool weather annuals that will make you drool, tempt your wallet and last for a blink of the eye in the high desert.
Also available in February are fruit trees and bushes. So if you are itching to plant think about adding those to your garden. But most definitely hold off on perennials. You can begin your spring clean up on nice days but hold off planting until nighttime temperatures are at minimum in the mid 40° to 50° range.
Save yourself the pain of plant attrition and wait to plant.  Go back to your garden plans for a few more weeks.