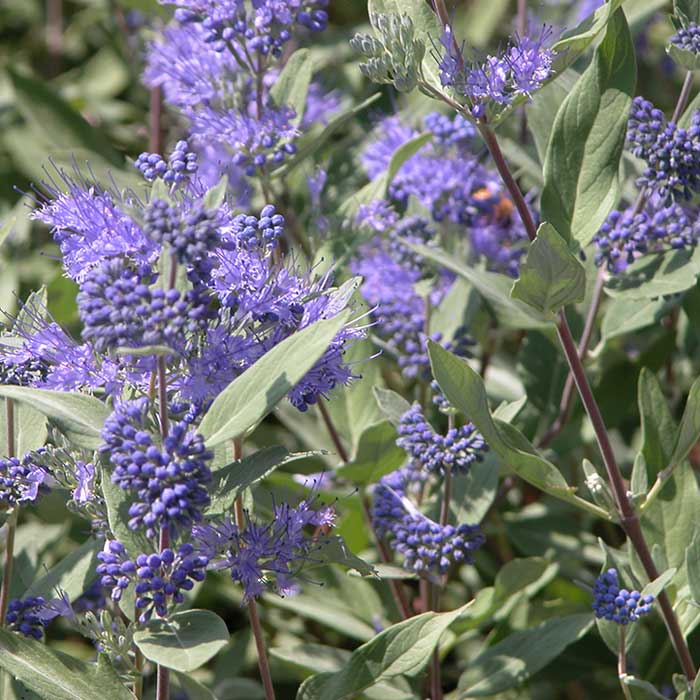 Botanical Name: Caryopteris x clandonensis 'Dark Knight'
Category: Perennial shrub
Common Name: Dark Knight Bluebeard
Size: 24-48″ tall x 24-36″ wide
Caryopteris is a  compact, mounding shrub with dense, fragrant, silver-gray foliage and deep purplish blue flowers over a long blooming season. It has a tidy, upright growth habit topped with a profusion of flowering spikes.
Bluebeard thrives in our high desert sun and soil. It is drought tolerant and a nectar source for bees and butterflies. It also provides fragrant flowers for cutting.
Fertilize in the fall, treat it to good quality compost and mulch. This is most important during the first 3 years –  established plants don't need to be fertilized (unless growth is stunted by extremely poor soils).  It does not like rich soil, and will respond by producing leaves excessively, foregoing flowers altogether.
My Experience:
Caryopteris is not as commonly found in local nurseries as many of my other five star plants. It is worth looking for! I love to find plants with gray-green foliage that will be happy in the high desert garden. They help break up the more predominant green-green for a more diverse garden palette.
Somewhat akin to Russian Sage in adaptability and look it is perfect for the back of the border or as a stand alone shrub or hedge.
If you have areas in your garden that are not irrigated – i.e. you water those areas by hand – this is the perfect plant. Rarely needing water they hold up beautifully.
Like Russian Sage Caryopteris blooms on new wood and  should be cut down by at least half in the early spring. You can cut them back to 12 to 18 inches without harm.
Give them room to spread out – and they will – and a shorter flower in front so as not to block it's beautiful blue haze.