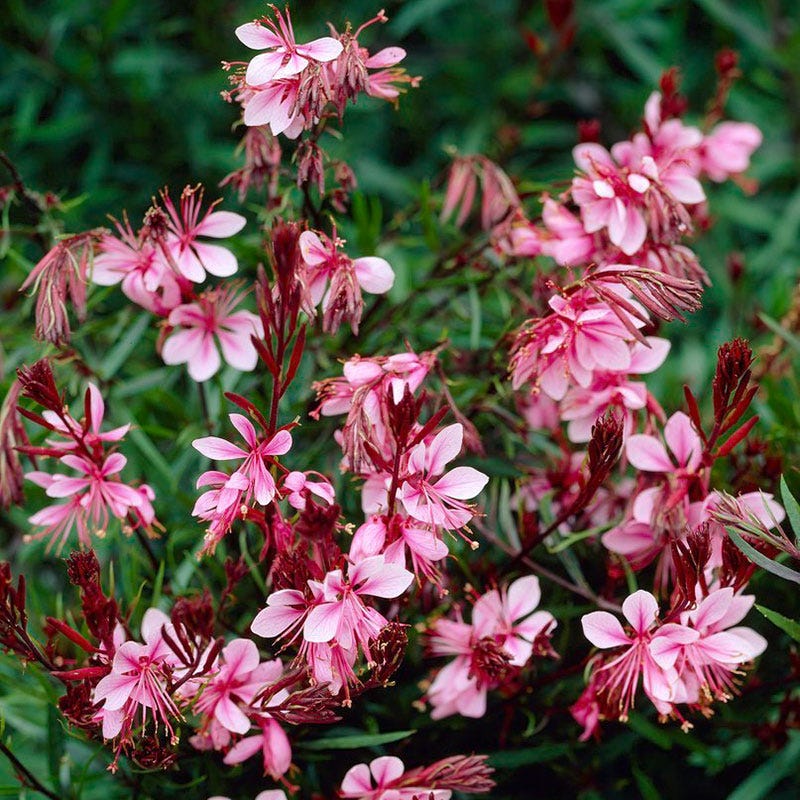 Botanical Name: Gaura lindheimeri
Common Name:  Whirling Butterfly, Wand flower, Bee blossom
Propagation: Seeds, Cuttings
Family: Onagraceae (Willowherb)
Size: 10-12″ wide x 36 – 48″ tall
Gaura – known by many names, is a low maintenance perennial with a long bloom time. Wiry flower stems "float" high above the base of the plant making them perfect for the back of the bed.
They thrive in full sun and poor, well drained soil. They are drought tolerant once established and do not require fertilizer but can tolerate it.
Gaura plants have a long tap root that makes transplanting difficult. See my note below.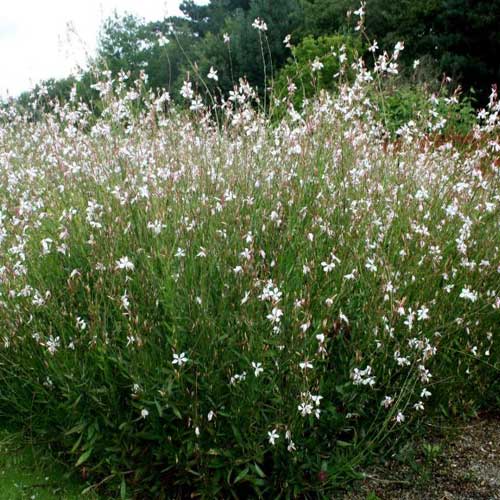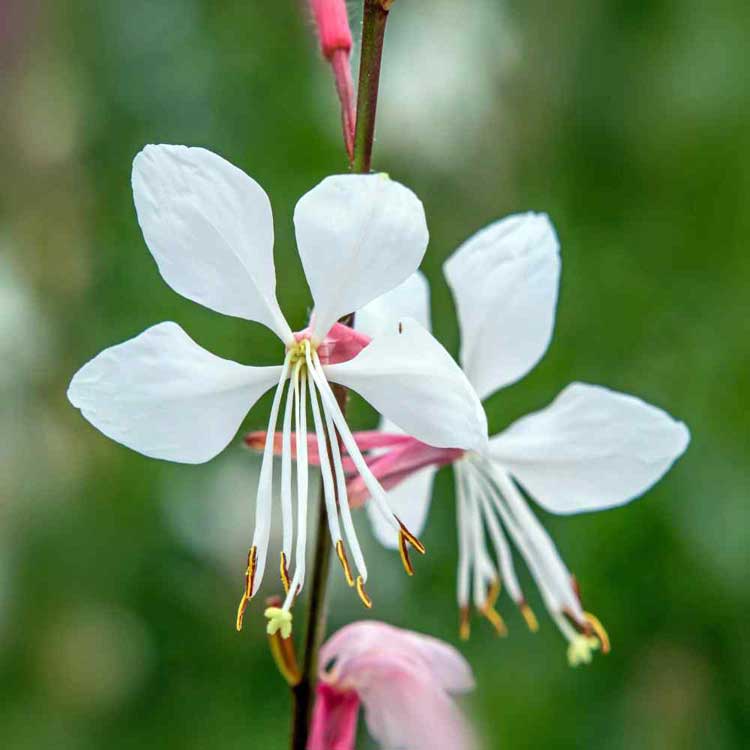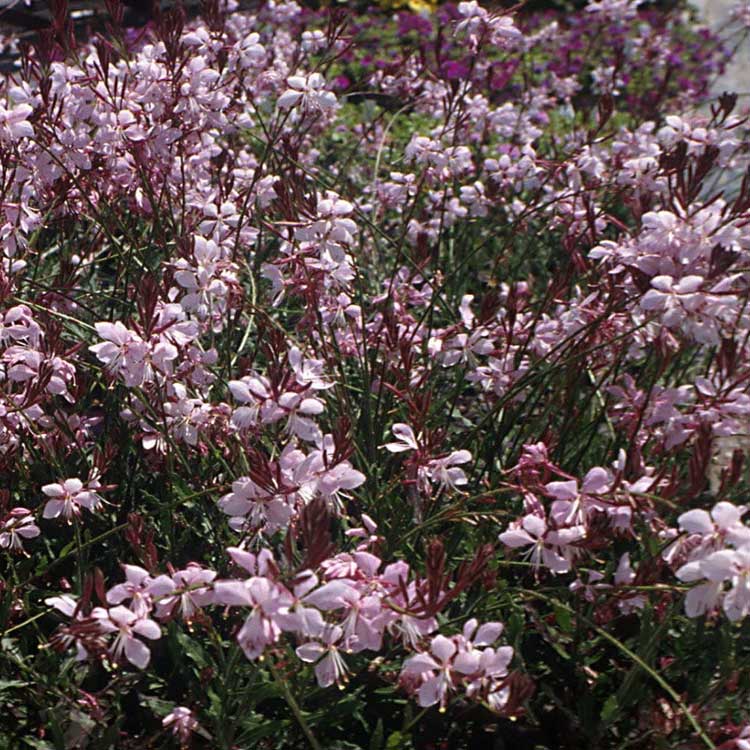 My Experience:
Another backbone of my high desert garden, Gaura is such low maintenance that you can plant it and forget it. Placed behind lower growing plants it adds texture and movement to your garden. Due to our dry heat I find it necessary to cut it back mid summer to encourage a new wave of blooming.
Gaura I have found is most effective if planted close together in waves of plants. Unless you have it in a mass their small flowers do not make much of an impact.
Gaura also needs to be staked. Their long stems tend to bend and flatten among other plants. Some use tomato cages when the plants are small. I have made a lattice from branches that I place over the plant and feed the stems through as it grows.
Gaura has a long tap root. Digging out the plant to move or divide is rarely successful. It does self sow – although not so prolifically as to be a problem.  Every spring I find shoots that can carefully be extricated and replanted. And it never fails that through the growing season a new plant will emerge in the most unlikely place.
To date I have not yet tried propagation by cutting – I will keep you posted!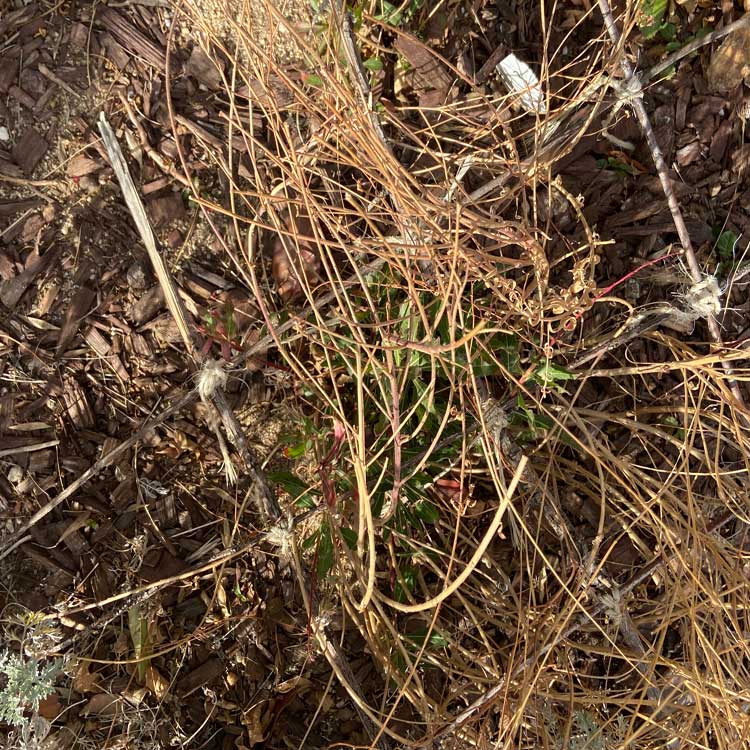 Gaura in my winter garden
Gather seed from your guara plants in the fall. Along the wiry stem you will find small brown seeds – if they are still green wait until they brown. Gently run your hand up the stem from the bottom and the seed will fall into your hand.
Seeds should be cold stratified for 60 days prior to direct sowing in spring or indoor start. Mix the seed with moist sand, put in a baggie and refrigerate.
 Direct Sowing:
In spring or fall seeds may be sown directly in the garden.
Sow in groups of 3-4 seeds spaced 24 in. apart. Seeds need light to germinate- cover very lightly.
Keep moist until germination 2-4 weeks.
Thin to the strongest plant.
  Indoor Start:
Sow the seeds in starter trays or pots – gently press into soil and do not cover.
Keep soil moist, not wet and temperature at 70°. Seeds germinate in 2-4 weeks.
Divide and repot when the seedling produces its true leaves a few weeks after germinating, this way you are unlikely to damage the delicate taproot.
Buy Gaura seeds from my Etsy shop