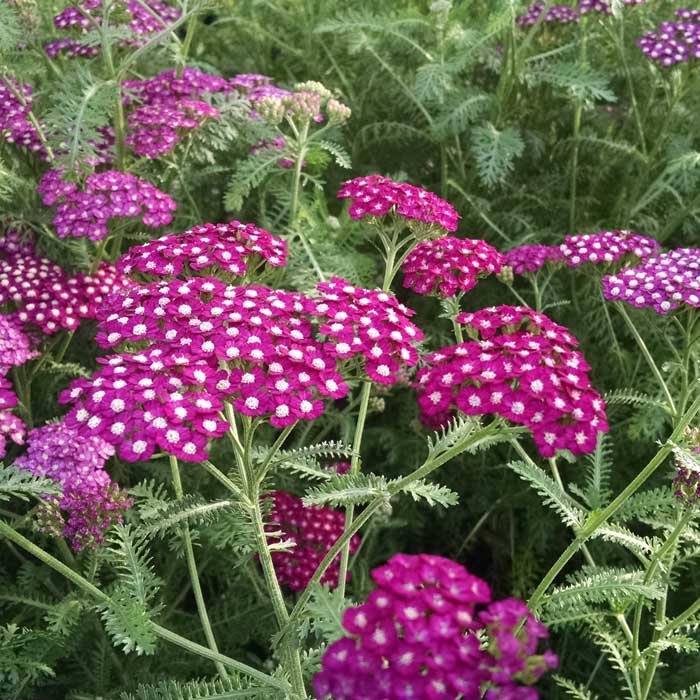 Botanical Name: Achillea millefolium
Propagation: 
Division,  seed
Family: Asteraceae (Sunflowers)
Size:24-36″ tall x 24-36″ wide
Yarrow (Achillea millefolium) is a native North American plant that attracts pollinators and is extremely easy to grow. It features flower stalks with showy flower heads that are nearly four times its foliage height and fern-like feathery green leaves. The flowers may be yellow, red, pink, or any shade in between.
Pest-resistant, drought-resistant,  excellent for cutting and drying yarrow is also an aromatic herb which has many healing properties. It needs full sun, well drained soil and thrives in hot, dry conditions. Yarrow will not tolerate soil that's constantly wet. or too rich.  To keep it from growing too tall, choose a site with average to poor soil and supplement it with a bit of compost to give the plants a good start.
Yarrow should be deadheaded when flowers start to fade in mid-summer; this encourages most varieties to produce another round of blooms.
Divide yarrow plants every 3 to 5 years to sustain vigorous, healthy plants. Lift the clumps in early spring or fall and remove any dead stems from the center of the clump. You can replant the divisions elsewhere in the garden.
My Experience:
Yarrow – like Gaillardia – is an invasive grower that readily chokes out less aggressive plants. I would recommend putting in fewer plants than you think you will need. Before long they will have expanded their area and be ready for dividing.
Despite it's invasiveness yarrow is so reliable and available in so many colors I urge you to find a place for at least one variety in your high desert garden.
When the flowers heads turn white – and then brown, cut them back and it will continue to bloom. (Photo below right)